Episodes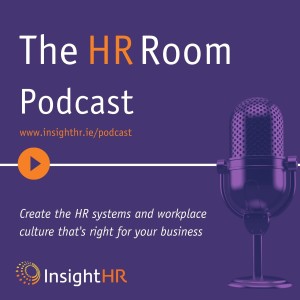 Tuesday Jan 31, 2023
Tuesday Jan 31, 2023
As many of us have heard and even experienced, it's been a challenging but rewarding couple of years for HR, with many commenting that the HR agenda has never been stronger, never been more credible, and many are feeling like they finally have a seat at the table. But what good is a seat at the table without a voice at the table – are you being heard in your organisation?

Today, we're joined by Julie O' Sullivan, Head of People Development with Jigsaw Better Business to talk us through this topic, discussing skills, mindset, and much more!
P.S. Don't miss this month's webinar, where Julie will be joining us to discuss The Secret To HR Strategy! Save your spot here!
About The HR Room Podcast
The HR Room Podcast is a series from Insight HR where we talk to business leaders from around Ireland and share advice on how to create the HR systems and workplace culture that's right for your business.
If you need any HR support in Ireland, get in touch with us at Insight HR.
Whether it's conducting a complex workplace investigation, filling a gap by providing you with a virtual or an onsite HR resource, or providing advice via our HR support line, as an expert HR consultancy in Ireland, we'll help you resolve whatever Human Resources challenge your business is facing.
Visit us at www.InsightHR.ie.