Episodes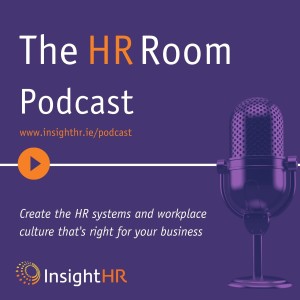 Tuesday May 02, 2023
Tuesday May 02, 2023
As we've spoken about over the last number of weeks on this podcast, the area of wellbeing is far-reaching and thankfully is developing hugely over time. Although there has been progress, in practice, is workplace wellbeing truly fit-for-purpose, accessible, and inclusive for all?
On episode 116 of the HR Room Podcast, we're joined by an Award winning Business Psychologist, Keynote Speaker, Media Contributor and Wellbeing Specialist, who has been interviewed by Vogue, The Guardian and Newsweek, the brilliant Lee Chambers.
About The HR Room Podcast
The HR Room Podcast is a series from Insight HR where we talk to business leaders from around Ireland and share advice on how to create the HR systems and workplace culture that's right for your business.
For show notes, go to www.InsightHR.ie/Podcast. 
If you need any HR support in Ireland, get in touch with us at Insight HR.
Whether it's conducting a complex workplace investigation, filling a gap by providing you with a virtual or an onsite HR resource, or providing advice via our HR support line, as an expert HR consultancy in Ireland, we'll help you resolve whatever Human Resources challenge your business is facing.
Visit us at www.InsightHR.ie.