Episodes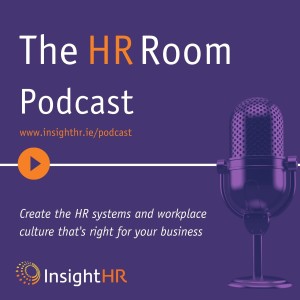 Tuesday Jun 06, 2023
Tuesday Jun 06, 2023
Are you listening to this podcast on the way to pick up the kids from school? Are you catching up on your podcasts while on maternity, paternity or parental leave? Are you tuning in because you need help in balancing parenting life and work, especially with summer coming up? Or are you an employer who simply wants to make sure their employees are happy and productive? Well, good news - this is the episode for you!
On episode 121 of The HR Room Podcast, we're delighted to be joined by one of the Co-Founders of Platform55, Tracy Gunn, to discuss what's working for working parents, and how employers and HR teams can support these employees. 
About The HR Room Podcast
The HR Room Podcast is a series from Insight HR where we talk to business leaders from around Ireland and share advice on how to create the HR systems and workplace culture that's right for your business.
For show notes, go to www.InsightHR.ie/Podcast. 
If you need any HR support in Ireland, get in touch with us at Insight HR.
Whether it's conducting a complex workplace investigation, filling a gap by providing you with a virtual or an onsite HR resource, or providing advice via our HR support line, as an expert HR consultancy in Ireland, we'll help you resolve whatever Human Resources challenge your business is facing.
Visit us at www.InsightHR.ie.