Episodes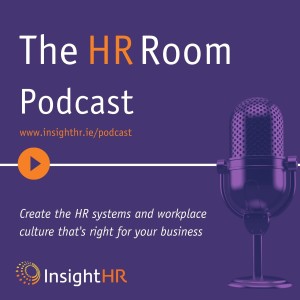 Tuesday Jul 04, 2023
Tuesday Jul 04, 2023
How a business performs, is almost always dependent on how their people perform. And whether it's driving productivity, manging underperformance, retaining your high performers, or building strategies and environments where the organisation and it's people thrive, HR teams and leaders know all too well how substantial but important area of business is. 

And on episode 125 of The HR Room Podcast, we're joined by someone who is no stranger to high performance both in the sporting and corporate world, former professional rugby player, Leinster's most capped player, multiple Six Nations winner with Ireland, and now Head of Partnerships at Fairstone Asset Management & askpaul, the brilliant Devin Toner.
About The HR Room Podcast
The HR Room Podcast is a series from Insight HR where we talk to business leaders from around Ireland and share advice on how to create the HR systems and workplace culture that's right for your business.
For show notes, go to www.InsightHR.ie/Podcast. 
If you need any HR support in Ireland, get in touch with us at Insight HR.
Whether it's conducting a complex workplace investigation, filling a gap by providing you with a virtual or an onsite HR resource, or providing advice via our HR support line, as an expert HR consultancy in Ireland, we'll help you resolve whatever Human Resources challenge your business is facing.
Visit us at www.InsightHR.ie.