Episodes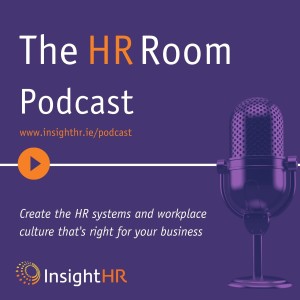 Tuesday Aug 08, 2023
Tuesday Aug 08, 2023
We've all seen countless headlines about harassment at work, and have also seen many reports on the prevalence of harassment and sexual harassment in Irish workplaces. So although we've also seen progress in legislation and the arrival of new codes of practice, why is this still a problem, and what can we do to tackle it? 

And to talk to us about this, we're delighted to be joined again for the second week in a row, by Joe Thompson, HR Consultant here at Insight HR.
About The HR Room Podcast
The HR Room Podcast is a series from Insight HR where we talk to business leaders from around Ireland and share advice on how to create the HR systems and workplace culture that's right for your business.
For show notes, go to www.InsightHR.ie/Podcast. 
If you need any HR support in Ireland, get in touch with us at Insight HR.
Whether it's conducting a complex workplace investigation, filling a gap by providing you with a virtual or an onsite HR resource, or providing advice via our HR support line, as an expert HR consultancy in Ireland, we'll help you resolve whatever Human Resources challenge your business is facing.
Visit us at www.InsightHR.ie.