Episodes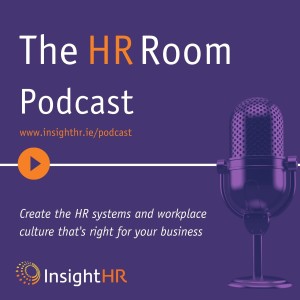 Tuesday Sep 05, 2023
Tuesday Sep 05, 2023
Unfortunately, redundancies have been a regular feature of the Irish landscape and media coverage in recent years. And managing redundancies is something that many HR teams and organisations may have to face, at some scale and at some point in their working lives. But when it comes to the law and the process surrounding redundancies, what are some of the key things we should look out for, what are the foundations of the law and process, and how do we make sure we manage these processes effectively for all involved? 

To answer these questions and many more, we're delighted to be joined by one of Ireland's leading employment lawyers and experts in this area, Founder & Principal at Crushell & Co, Barry Crushell. 
About The HR Room Podcast
The HR Room Podcast is a series from Insight HR where we talk to business leaders from around Ireland and share advice on how to create the HR systems and workplace culture that's right for your business.
If you need any HR support in Ireland, get in touch with us at Insight HR.
Whether it's conducting a complex workplace investigation, filling a gap by providing you with a virtual or an onsite HR resource, or providing advice via our HR support line, as an expert HR consultancy in Ireland, we'll help you resolve whatever Human Resources challenge your business is facing.
Visit us at www.InsightHR.ie.