Episodes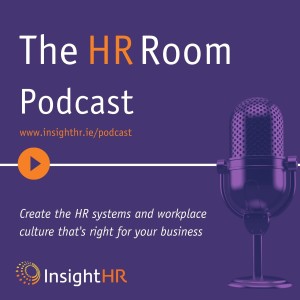 Tuesday Nov 16, 2021
Tuesday Nov 16, 2021
As part of the Insight HR Back In Business series, we're speaking with Anna Pinkerton, the UK's leading expert in burnout prevention and trauma recovery.
About Anna:
Anna Pinkerton is a professionally qualified psychotherapist and author with over 25 years experience, she specialises in helping people recover from chronic stress, PTSD, burnout and breakdown.
Anna works with individuals across the world and specialises in working with entrepreneurs, business leaders and senior executives who have experienced a traumatic event in their life or are suffering from long-term stress, which can result in traumatic breakdown.
Anna is the founder of Kindness Incorporated™ a unique philosophy centered on companionability to self, affecting others and business for the better.  Influenced by her personal experience with trauma and recovery Anna has fused the science of kindness with the art of business and has vast experience in the prevention of burnout, burnout trauma© and traumatic breakdown.
Anna is also the author of bestselling book Smile Again, a guide for professionals, who have experienced burnout, breakdown and overwhelming stress in life, with practical methods to begin their road to recovery.
About The HR Room Podcast
The HR Room Podcast is a series from Insight HR where we talk to business leaders from around Ireland and share advice on how to create the HR systems and workplace culture that's right for your business.
For show notes, go to www.InsightHR.ie/Podcast. 
If you need any HR support in Ireland, get in touch with us at Insight HR.
Whether it's conducting a complex workplace investigation, filling a gap by providing you with a virtual or an onsite HR resource, or providing advice via our HR support line, as an expert HR consultancy in Ireland, we'll help you resolve whatever Human Resources challenge your business is facing.
Visit us at www.InsightHR.ie.