Episodes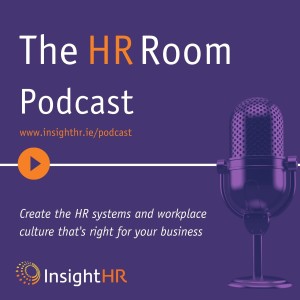 Tuesday Mar 01, 2022
Tuesday Mar 01, 2022
Today on the HR Room Podcast, we're joined by Joanne Hession to discuss how to develop leaders at all levels of Irish society.
Joanne is the Executive Director of The Entrepreneurs Academy and QED The Accreditation Experts as well as being an Executive Director of The John Maxwell Team (largest leadership training organisation in the world). In 2018 Joanne stepped aside from her business to found and dedicate her time to a national leadership initiative, LIFT Ireland. LIFT Ireland builds authentic leadership across the country, at the kitchen table, in the classroom, clubhouse and boardroom. Joanne's business, The Entrepreneurs Academy has trained over 30 thousand people towards success over 20+ years. Currently an elected Council member of Dublin Chamber, Joanne is focused on equipping leaders to fulfill their potential. Joanne is a passionate advocate of servant and authentic leadership. 
About The HR Room Podcast
The HR Room Podcast is a series from Insight HR where we talk to business leaders from around Ireland and share advice on how to create the HR systems and workplace culture that's right for your business.
For show notes, go to www.InsightHR.ie/Podcast. 
If you need any HR support in Ireland, get in touch with us at Insight HR.
Whether it's conducting a complex workplace investigation, filling a gap by providing you with a virtual or an onsite HR resource, or providing advice via our HR support line, as an expert HR consultancy in Ireland, we'll help you resolve whatever Human Resources challenge your business is facing.
Visit us at www.InsightHR.ie.