Episodes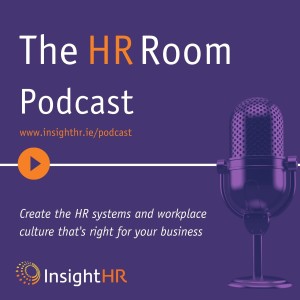 Tuesday Mar 08, 2022
Tuesday Mar 08, 2022
Today on the HR Room Podcast, we're celebrating International Women's Day with inspirational business founder, social entrepreneur and designer, Sonya Lennon.
Sonya is a designer, business woman, and an advocate for equality. She has successfully re-positioned from fashion girl, to broadcaster, to social entrepreneur. Her funny and gripping take on life is underpinned by a drive for everyday empowerment and inspiring stories of bursting through the boundaries of fear.
For further information, visit WorkEqual here - https://workequal.ie/
About The HR Room Podcast
The HR Room Podcast is a series from Insight HR where we talk to business leaders from around Ireland and share advice on how to create the HR systems and workplace culture that's right for your business.
For show notes, go to www.InsightHR.ie/Podcast. 
If you need any HR support in Ireland, get in touch with us at Insight HR.
Whether it's conducting a complex workplace investigation, filling a gap by providing you with a virtual or an onsite HR resource, or providing advice via our HR support line, as an expert HR consultancy in Ireland, we'll help you resolve whatever Human Resources challenge your business is facing.
Visit us at www.InsightHR.ie.