Episodes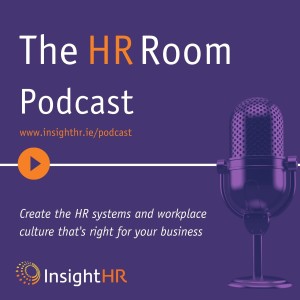 Tuesday Apr 05, 2022
Tuesday Apr 05, 2022
The idea of the 4 day work week is fast gaining traction around the world but what's involved and how can employers successfully implement this change in their workplace?
To address this issue, we're joined by Joe O'Connor. Joe is 4 Day Week Global's CEO, where he is responsible for the organization's strategic, financial and operational leadership, charged with developing solutions and making decisions to address organizational challenges and progress strategic opportunities.
4 Day Week Global is a not-for-profit community established to provide a platform for like-minded people who are interested in supporting the idea of the 4 day work week as a part of the future of work. 
About The HR Room Podcast
The HR Room Podcast is a series from Insight HR where we talk to business leaders from around Ireland and share advice on how to create the HR systems and workplace culture that's right for your business.
For show notes, go to www.InsightHR.ie/Podcast. 
If you need any HR support in Ireland, get in touch with us at Insight HR.
Whether it's conducting a complex workplace investigation, filling a gap by providing you with a virtual or an onsite HR resource, or providing advice via our HR support line, as an expert HR consultancy in Ireland, we'll help you resolve whatever Human Resources challenge your business is facing.
Visit us at www.InsightHR.ie.